Japanese Koi Fish & Pond Supply Store | Davie, Florida
NOTICE: we'll temporarily close from Sept. 12 to Oct. 12 for renovation and reopen tentatively on Oct 13. Details below.
Welcome to Kodama Koi Garden in Davie, Florida
We offer an unsurpassed selection of beautiful high-quality Japanese Koi and supplies
Our family has been importing the best quality koi from Japan and are recognized as a top Japanese koi dealers since 1967. We've raised many award-wining koi and hope you come visit our premier destination for buying Japanese koi and koi pond services in Davie, FL.
High Quality Japanese Koi
Every koi is hand-picked from top breeders by Koi Master Mamoru Kodama.
Raised by the Best Breeders
We're committed to offering the best koi from Niigata, Japan.
Healthy & Tested Koi
Our #1 priority is beautiful, healthy, and KHV free koi.
Call us at (954) 585-6181, send us an email, or visit our Davie, FL pond store for the best in high quality Japanese Koi and pond supplies to improve your habitat for fish and plants.
Contact or Visit our Florida Koi Store
Kodama Koi Garden FL
7250 Griffin Rd
Davie, FL 33314
Temporarily closed for renovation from Sept. 12 to Oct. 12.
Monday: Closed
Tuesday: 9:00am–5:00pm
Wednesday–Saturday: 9:00am–5:00pm
Sunday: 11:00am–5:00pm
Phone: (954) 585-6181
Email: info.fl@kodamakoi.com
Get Directions
Kodama Koi Garden, 7250 Griffin Rd, Davie, FL 33314, USA
Our Florida pond store is located in Davie, FL near Fort Lauderdale, Miami, West Palm Beach and Homestead. Come visit or give us a call at (954) 585-6181
Current Promotions & Events at our Florida Store
Notice of temporary closure—Sept 12 to Oct 12
We want to inform you that we will be temporarily closed—from Sept. 12 to Oct. 12—for a remodel of our facility.
It's been 3 years already since we've opened the FL store in Davie. And at times, it's been a wild ride with storms and hurricanes.
We want to maintain a beautiful Japanese koi garden, but our daily upkeep is not enough. Thus, we'll be temporary closed. Here are more details:
9/12–9/26: Store is closed completely. No sales except for pond maintenance service.
9/27–10/12: Store is opened for koi food and supply only. No sale of koi.
Then on Oct 13 (Sat) we plan to reopen tentatively with a "Renewal" event (TBD).
Thank you very much for your patience for this upcoming renovation.
Please plan to visit us before September 12 if you need anything.
---
---
Buying a filter is a big decision. So we've made a short 5-minute video to give you an overview of its benefits and simplicity.
Check out how easy a BioClean is to use
Choose your BioClean bonus
From now until September 2018, pick a bonus for any order of BioClean (or BioClean Mini) systems.
Buy a BioClean (or BioClean Mini) to get either a:
FREE 18 lb All Season koi food Med, floating pellets ($149 value). The same high quality koi food that we use at the farm, high in nutrients and quality protein
or FREE 25W Skimmer UV light ($200 value). Install in your filtration system to make your water crystal clear to enjoy your finned friends
Offer ends Sept 30, 2018.
---
We're excited to let you know about our next grow-out contest with beautiful Showa tosai (under 1 year old).
Starting on Tuesday, Feb 20, visit the store to pick and buy your favorite Showa contenders and raise them with TLC. These koi are from well-known breeder Isa and are currently about 7 inches long.
Then in Dec 2018, bring your Showa to the store for judging with the other contestants and potentially win koi food prizes!
The Kodama Koi food prizes are:
1st place—A box of mixed All Season (2.5 lb) and Color Up (2.5 lb)
2nd place—A box of All Season 5 lb
3rd place—Bags of All Season (1 lb) and Color Up (1 lb)
This is a fun opportunity to see how the Showa grow and their skin patterns develop, and you'll meet other koi hobbyists who enjoy koi as much as you do.
See you at the koi garden!
Below is a video of some of the Isa Showa that you can pick from:
Meet Our Team of Pond Professionals
Takehiro "TK" Nishino
Store Manager
I was born and raised in Japan, and studied at University of Nevada Reno for my B.S. in Biology.
I was assigned to serve as NY store manager in 2016; and now that the season there is closed, I'll be managing the FL store. I'd like to assist our valuable customers in understanding Japanese Koi a.k.a "Living Jewel" from a biological perspective.
I'm looking forward to seeing you at the FL pond store.
Evan Weiser
Koi Pond Maintenance Professional
Hello, my name is Evan Weiser.
I am one of the main pond specialists at Kodama Koi Garden of Davie, Florida.
Let me help you build and or maintain your pond to get the best results in the health of your pond and koi. I look forward to learning more about your backyard pond and finding the perfect addition.
High-Quality Koi Pond Supplies
Kodama Koi Gardens carries only the highest quality pond supplies including many Japanese products normally unavailable in the United States.
Why Buy Koi From Kodama Koi Gardens?
Healthy Koi is always our number one priority. After buying Koi from only trusted breeders, newly arriving Koi spend three weeks in quarantine under careful examination. The quarantine will not end without KHV (Koi Herpes Virus) testing. Kodama Koi Farm makes the best effort possible to ensure Koi are safe and healthy.
Buy Koi Fish Imported from Japan
Choose your next live Koi fish from our Davie, Florida pond store with an unsurpassed selection of high-quality Japanese Koi.
Buy Our Recommended Koi Supplies Online 24/7!
Even when our stores are closed, you can still find all our recommended products on online.
Please visit our online store to purchase filters, nets, aeration, UV sterilizers, koi food, medication, supplements, books, apparel, monitoring systems, and so much more specifically selected for the safety of your koi pond or water garden. Everything at our shops have been carefully chosen to offer you the highest quality pond products. Shop with us for the best available.
Visit Our Online Pond Supply Store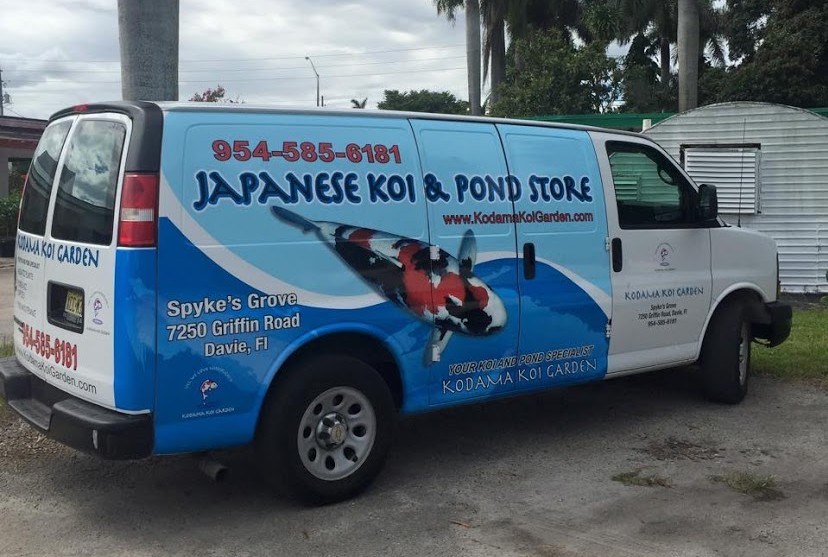 Professional Pond Maintenance & Service
Let the professionals at Kodama Koi Garden keep an eye on your Koi and maintain your pond.
Use our comprehensive maintenance services to keep your pond in it's best shape ever. Our experts will service your pond or water garden with practices suitable for raising quality koi or growing the best plants.
Services available on a Weekly, Biweekly or Monthly schedule.
Regular mid-season checks and are included in this season-long service. Payments can be made monthly or for the entire season up front. Discounts are available for full season payments.
Pond Design and Construction Service
Our experienced professionals at Kodama Koi Garden in Florida will design your perfect pond!
A well-designed koi pond requires minimal maintenance and maximizes the health and beauty of your Koi! For koi, the pond water is like the air and atmosphere for us, and the pond is their home. A properly designed koi pond can make all the difference in the life of your koi, how they grow, and their health.
Although Kodama Koi Garden does not currently offer direct construction services, we possess a network of approved pond builders which we have found to be reliable and trusted with building ponds to our exact specifications for koi or water gardens.