Japanese Koi Fish & Pond Supply Store | Saddle River, NJ
Welcome to Kodama Koi Garden in Saddle River, NJ
We offer an unsurpassed selection of beautiful high-quality Japanese Koi and supplies
Our family has been importing the best quality koi from Japan and are recognized as a top Japanese koi dealers since 1967. We've raised many award-wining koi and hope you come visit our premier destination for buying Japanese koi and koi pond services in Saddle River, NJ.
High Quality Japanese Koi
Every koi is hand-picked from top breeders by Koi Master Mamoru Kodama.
Raised by the Best Breeders
We're committed to offering the best koi from Niigata, Japan.
Healthy & Tested Koi
Our #1 priority is beautiful, healthy, and KHV free koi.
Call us at (201) 962-3915, send us an email, or visit our Saddle River pond store for the best in high quality Japanese Koi and pond supplies to improve your habitat for fish and plants.
Contact Or Visit our Saddle River, New Jersey Koi Store
Kodama Koi Garden, 74 E Allendale Rd Saddle River, NJ 07458
Our New Jersey pond store is located in Saddle River NJ near North Jersey and Manhattan. Come visit or give us a call at (201) 962-3915
Current Promotions & Events at our New Jersey Store

Tancho Kohaku for Father's Day
Thought about giving a koi as a Father's Day gift? We got you covered. Check out these beautiful Tancho Kohaku at Kodama Koi Garden NJ. Tancho for the head honcho!
With their distinct red spots on their heads and white bodies (like a Japanese flag), they stand out and inject a bit of Japan in any pond. See the video clip below to get a preview.
Visit the koi garden to pick one of these as a unique Father's Day gift! Come early to get a bigger selection to choose from. Prices range from $200–$350.
Have a great Father's Day!
---

Bring friends to the Pond Party on Sat–Sun, May 27–28, to get 15–30% OFF
You and your friends are invited to the pond party on May 27–28 when we'll be kicking off our Bring-A-Friend promo. Here's how it works:
Bring a friend who has not purchased from the Kodama Koi Garden NJ store
If he (or she) buys something as a first-time customer, you get 15% OFF your purchases that day!
PLUS if you bring 2 or more friends who buy something as first-time customers, you can get 30% OFF!
This promo will be ongoing throughout 2017, but it starts at the pond party so take advantage of it.
Pond Party Details
On May 27–28, Sat–Sun, we're hosting another POND PARTY! It'll be at the NJ Kodama Koi Garden from 9AM–5PM each day. Invite your friends to experience the zen of koi and get a Bring-A-Friend discount!
FREE admission
Enjoy yummy BBQ on Sat from 11AM–3PM
Have family-friendly fun with friends and the koi
Ask our koi experts any questions
Let's spread the joy of koi!
---

Ginrin Goshiki for Mother's Day this Sat–Sun, May 13–14
Still wondering what gift to get for Mom? Might we suggest a beautiful Ginrin Goshiki to commemorate her special day? It'll be a unique gift for sure.
If that sounds good, come over to Kodama Koi Garden NJ for the Mother's Day Ginrin Goshiki Special on Sat–Sun, May 13–14. This popular variety is from the Hiroi Koi Farm, and these beautiful koi are around 14in long. Prices range from $450–$650.
Tip for picking Ginrin Goshiki: Look for consistent sparkling scales, an even balance of hi (red) and silvery black or gray pattern, and defined edges between those color patterns.
You're welcome to bring the family along to pick a favorite for the special Mom in your life!
Check out the video below showing some of the Ginrin Goshiki that will be available:
---

Dainichi Showa Grow-out and Seasonal Opening Pond Party
Early-bird Dainichi Grow-out sale (April 28–30)
If you want to put your koi-picking skills to the test, you'll want to join our Dainichi Grow-out contest. From April 28–30, Fri–Sat, we will be selling Dainichi Showa. Visit Kodama Koi Garden NJ during those days to select and buy your favorite Showa. This contest will be judged on Sept 23, 2017; and the top 3 koi that grew the most beautifully win these prizes:
1st place—KKF AllSeason 11lb and ColorUp 11lb koi food
2nd place—KKF ColorUp 11lb koi food
3rd place—KKF AllSeason 11lb koi food
Then on Sat, April 29, Taro Kodama (president of Kodama Koi Farm) will judge last year's Shiro Utsuri Grow-out contest. Also koi club members will be there and would be happy to chat about koi or add you as a new member.
Seasonal Opening Pond Party (May 6–7)
Then on May 6–7, Sat–Sun, we're kicking off our POND PARTY! It will be our first one for 2017 to celebrate our seasonal opening, and we'd love to see you there. It'll be at the NJ Kodama Koi Garden from 9AM–5PM.
As always, this will be an event for the whole family. See some of the best koi this side of the East Coast, ask our koi experts your questions, and make new friends with other koi hobbyists. We'll be munching on tasty BBQ, too, on Sat from 11AM–3PM. And all FREE admission.
We'll see you then!
Keep your koi in tip-top shape
Happening Sat–Sun, April 22–23 at 1PM
With the coming of spring, your koi begin to stir. But how do you know that they made it through the winter unscathed? How can you avoid stressing the koi when new koi are added? What are the telltale signs of common koi diseases?
You can get your answers at Kodama Koi Garden's Health Check Seminar in NJ. If you're like us, you want to keep your koi healthy and happy. To help you do that, you're invited to learn from Taka, koi expert and store manager, on how to prevent koi diseases, what symptoms to look for, and how to treat them. We'll also be covering what koi medicines and water treatments work best and how to use them.
Arm yourself with knowledge to enjoy your koi pond oasis for years to come. See you there!
Upcoming Koi Events
In these seminars, you will learn how to raise koi and maintain healthy water quality by using a biological filter from top Japanese koi expert Mamoru Kodama. Keep your pond naturally healthy and in great condition to maximize the health of your koi fish by attending... read more
Meet Our Team of Pond Professionals
Takao Yamaguchi
NJ Store Manager
Hi I am Takao Yamaguchi from Japan. Please call me Taka.
The koi which our ancestors created are now a pleasant joy to people around the world. At Kodama Koi Garden our NJ pond store, we are your one-stop destination for all supplies of these living jewels in the New Jersey area. Please come and enjoy their beauty in person. I promise you will be impressed with these amazing Japanese Koi fish.
I will be here to assist you in every way for a successful koi and pond hobby.
High-Quality Koi Pond Supplies
Kodama Koi Gardens carries only the highest quality pond supplies including many Japanese products normally unavailable in the United States.
Why Buy Koi From Kodama Koi Gardens?
Healthy Koi is always our number one priority. After buying Koi from only trusted breeders, newly arriving Koi spend three weeks in quarantine under careful examination. The quarantine will not end without KHV (Koi Herpes Virus) testing. Kodama Koi Farm makes the best effort possible to ensure Koi are safe and healthy.
Buy Koi Fish Imported from Japan
Choose your next live Koi fish from our Saddle River, NJ pond store and unsurpassed selection of high-quality Japanese Koi.
Buy Our Recommended Koi Supplies Online 24/7!
Even when our stores are closed, you can still find all our recommended products on online.
Please visit our online store to purchase filters, nets, aeration, UV sterilizers, koi food, medication, supplements, books, apparel, monitoring systems, and so much more specifically selected for the safety of your koi pond or water garden. Everything at our shops have been carefully chosen to offer you the highest quality pond products. Shop with us for the best available.
Visit Our Online Pond Supply Store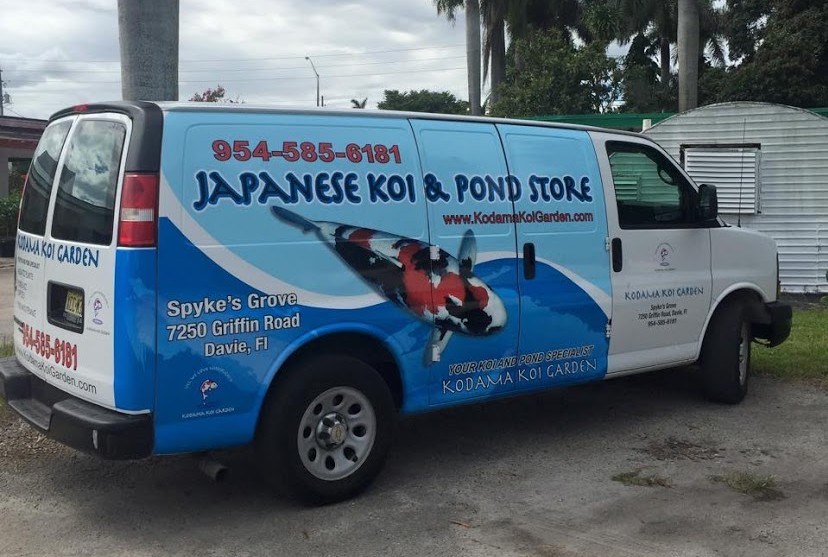 Professional Pond Maintenance & Service
Let the professionals at Kodama Koi Garden keep an eye on your Koi and maintain your pond.
Use our comprehensive maintenance services to keep your pond in it's best shape ever. Our experts will service your pond or water garden with practices suitable for raising quality koi or growing the best plants.
Services available on a Weekly, Biweekly or Monthly schedule.
Regular mid-season checks and are included in this season-long service. Payments can be made monthly or for the entire season up front. Discounts are available for full season payments.
Pond Design and Construction Service
Our experienced professionals at Kodama Koi Garden in New Jersey will design your perfect pond!
A well-designed koi pond requires minimal maintenance and maximizes the health and beauty of your Koi! For koi, the pond water is like the air and atmosphere for us, and the pond is their home. A properly designed koi pond can make all the difference in the life of your koi, how they grow, and their health.
Although Kodama Koi Garden does not currently offer direct construction services, we possess a network of approved pond builders which we have found to be reliable and trusted with building ponds to our exact specifications for koi or water gardens.