Japanese Koi Fish & Pond Supply Store | Patchogue, NY
Current Promotions & Events at our New York Store
20% OFF all koi for Father's Day
If you're wondering what to do for Father's Day, you'll want to know about our 20% OFF koi promo! It starts THIS Saturday until the end of Sunday (June 17–18).
PLUS: There are new Japanese koi that arrived from the farm in Hawaii; so come visit us to get the first selections.
Ask for one of our experienced staff members to get your next living jewel and learn more about this limited-time promotion.
This Father's Day promo is from June 17–18. See you then!
---
---
Upcoming Koi Events
Thank you to everyone who attended this year's Pond Party! We are happy to have met you all and appreciate you for coming. Make sure to check out the photo gallery of the weekend! Let us know in the comments if you attended the event — we want to hear your thoughts on... read more
Buy Our Recommended Koi Supplies Online 24/7!
Even when our stores are closed, you can still find all our recommended products on online.
Please visit our online store to purchase filters, nets, aeration, UV sterilizers, koi food, medication, supplements, books, apparel, monitoring systems, and so much more specifically selected for the safety of your koi pond or water garden. Everything at our shops have been carefully chosen to offer you the highest quality pond products. Shop with us for the best available.
Visit Our Online Pond Supply Store
High-Quality Koi Pond Supplies
Kodama Koi Gardens carries only the highest quality pond supplies including many Japanese products normally unavailable in the United States.
Why Buy Koi From Kodama Koi Gardens?
Healthy Koi is always our number one priority. After buying Koi from only trusted breeders, newly arriving Koi spend three weeks in quarantine under careful examination. The quarantine will not end without KHV (Koi Herpes Virus) testing. Kodama Koi Farm makes the best effort possible to ensure Koi are safe and healthy.
Buy Koi Fish Imported from Japan
Choose your next live Koi fish from our Patchogue, Long Island NY pond store with an unsurpassed selection of high-quality Japanese Koi.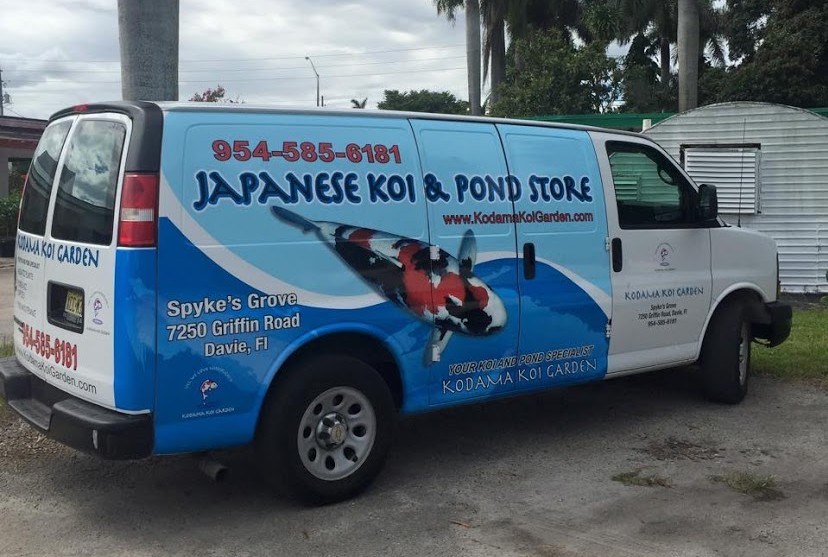 Professional Pond Maintenance & Service
Let the professionals at Kodama Koi Garden keep an eye on your Koi and maintain your pond.
Use our comprehensive maintenance services to keep your pond in it's best shape ever. Our experts will service your pond or water garden with practices suitable for raising quality koi or growing the best plants.
Services available on a Weekly, Biweekly or Monthly schedule.
Regular mid-season checks and are included in this season-long service. Payments can be made monthly or for the entire season up front. Discounts are available for full season payments.
Pond Design and Construction Service
Our experienced professionals at Kodama Koi Garden in New York will design your perfect pond!
A well-designed koi pond requires minimal maintenance and maximizes the health and beauty of your Koi! For koi, the pond water is like the air and atmosphere for us, and the pond is their home. A properly designed koi pond can make all the difference in the life of your koi, how they grow, and their health.
Although Kodama Koi Garden does not currently offer direct construction services, we possess a network of approved pond builders which we have found to be reliable and trusted with building ponds to our exact specifications for koi or water gardens.