Award-Winning Japanese Koi Dealer
Since we were founded in Japan almost 50 years ago, our family has been recognized as a top koi dealer in the industry. We've had the honor of raising award-winning koi, including five Grand Champions at the All Japan Koi Show and over 185+ recorded champions.
By sharing our knowledge and expertise, Kodama Koi Garden strives to be your destination for high quality Japanese Koi pond service and supplies in New York, New Jersey, and Florida. We also offer the option for you to buy pond supplies online.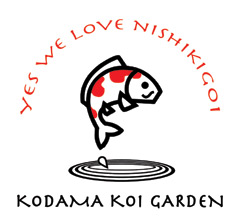 Decades Of Koi Raising Experience
50 + Years Of Family Experience Raising Champion Koi
210 + Award-Winning Koi Fish In Shows
5 Grand Champions At The All Japan Koi Show
3,000,000 Gallons Of Pond Space
500,000+ Kodama Raised Koi
1 Of The Largest Koi Farms In The World
We Know High Quality Japanese Koi
---
Raising champion quality koi is a tradition that we hold great honor to have achieved. We feed the best koi food to our Japanese Koi and raise them in similar conditions the Niigata region. Our Koi have excellent color with unique features that will add a beautiful new pattern to your pond.
Kodama Champion Koi Awards
Over 75 different Koi Owners and 8 multiple show winners
57 Kohaku, 42 Showa, 21 Sanke, 11 Shiro Utsuri Winners
56 Best In Size, 27 Best in Variety, 16 Grand Champion
5+ Grand Champion Winners at All Japan Nishikigoi Show
It Runs In The Kodama Family
Generations of Knowledge
Since I was a little boy in Japan, my father ingrained in me that the art of raising and selling high quality koi was a privilege that requires the utmost admiration.
I brought these lessons over the past 50 years into Kodama Koi Gardens. Today, I educate my staff with the same knowledge my father gave me with the hopes of bringing you beautiful koi.
Genuine Japanese Koi
Growing up in Japan, my father instilled in me our Kodama family commitment to only offering genuine Japanese Koi from their birthplace in Niigata.
I promised that I'd remain true to our family tradition and never breed koi myself, but only import high quality Nishikigoi from top Japanese breeders. As a Kodama, we proudly present our Japanese culture for these "Living Jewels" from the mecca of Japanese Koi.
Only Top Japanese Breeders
Over the years, my father, Koi Master Mamoru Kodama, and I have fostered many lasting relationships with top Japanese Koi breeders. My father and I meet these old friends to handpick every single koi that enters Kodama Koi Farm.
It brings my father and I so much joy to go back home, speak in Japanese, and negotiate with old friends. Even after 50 years, it still amazes me how strong our relationship is with them and the incredible koi we have been honored to raise.
Strict Quarantine System
My father always stressed the importance of koi health. After buying koi from only trusted breeders, our new koi arrivals would spend three weeks in quarantine under careful examination.
The quarantine of koi ends with a KHV (Koi Herpes Virus) testing. Just as we need to trust the home and care that our koi receives, you need to trust the quality of the koi you purchase. At Kodama Koi Farm, we put our best efforts to ensure our koi are safe and healthy before sale.
Experienced Staff
Similarly to how we handpick each koi, we also carefully select each member of our dedicated staff. The managers at each store location have spent time in Japan or on Kodama Koi Farm learning about raising and nurturing koi. Not only have they cared for thousands of koi, but they also have maintained our 3 million gallon ponds.
In addition to that, our managers have monitored the strict quarantine process for KHV and maintained the diet of thousands of koi. You can rest assured that each question you have about pond and koi maintenance will be answered honestly from firsthand experience.
State Of The Art Facilities
When I decided to leave Japan to provide the US and Canada with top quality koi, I took with me our family secrets and turned them into Kodama Koi Farm. After my father and I hand select each gorgeous koi from Japan, they begin their vacation in Hawaii.
As one of nature's living and growing beauties, it is critical to have the right facility for raising beautiful and healthy koi. They live in mineral rich water like their birthplace in Japan because volcanic rock is perfect for healthy growth. Our 12-acre koi farm in Hawaii makes us one of the world's largest operations for Japanese Koi.
Our Company Philosophy
Goal – Be The World's #1 Koi Company!
"By becoming a brand that represents Japanese culture through Koi and a business that provides 'happiness' and 'pleasure' to everybody."
Mission – Intellectual Growth For Employees & Customers.
"Through our joint efforts, spread appreciation and keeping of Nishikigoi and Japanese culture and contribute to people and society to improve their quality of life."
Motto – Be Respectful! Be Responsible! Have fun!