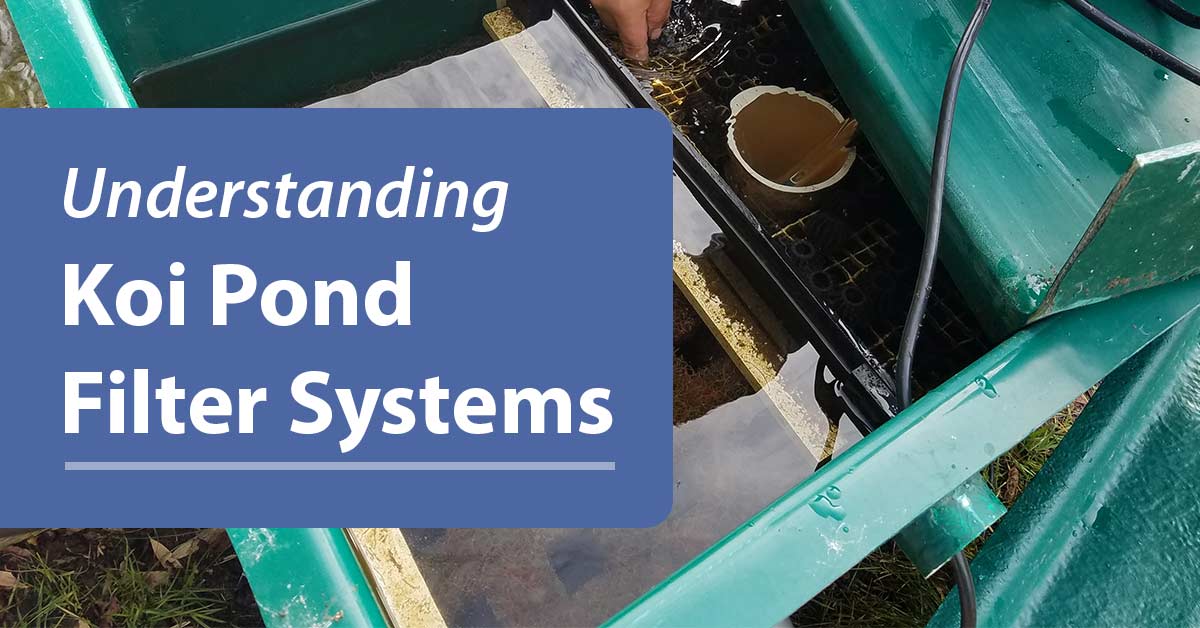 A filter is a critical part of a Koi pond. Why is it so important? Because for a koi, a pond without a filter is like living in a room with no toilet.
Table of Contents:
Why do you need a filter for your Koi pond?
Koi spend the entirety of their lives in a pond; and they eat, sleep, and poop there. Imagine if you spent your entire life in 1 room. You would quickly have lots of trash and leftover food and—would need to go to bathroom.
If you put yourself in a Koi's position, it is easy to understand why a filter is critical for a pond. However, I often see ponds with no filter. In many cases, hobbyists think they have a good-sized filter for their pond; but it turns out it is not big enough at all. Every Koi pond must have an appropriate filter system so that the Koi can live healthy and comfortably.
Mechanical filtration vs. biological filtration
In daily conversation, we just say "filter" or "filter system." There are two main categories of filtration—mechanical and biological. It is important to understand the differences between the two.
In mechanical filtration, the filter physically separates and removes any wastes or solids. It is like a vacuum cleaner. If we go back to the example of living only in one room, once the room gets dirty with leftover food and waste, you would clean it with a vacuum cleaner. But the problem is that while physically removing waste makes the room appear clean, the waste still would leave behind polluted air in the room. In a Koi pond, the solids can be physically removed; and the water look crystal clear. But toxic substances like ammonia dissolved in the water will remain. This is why it is often said that clear water is not necessarily healthy water. Both solids and toxic substances must not only be visually removed, but also decomposed and purified.
This brings us to the second type of filtration—biological filtration. In biological filtration, we use help from bacteria. Beneficial (nitrifying) bacteria detoxify and purify the water.
Types of filter systems
There are many types of mechanical filtration. Sieve and RDF (Rotating Drum Filter) are very popular nowadays. They both use 200–300 micron-sized screens to filter water. Any small particles will be captured through this system, and you get crystal clear water. If you prefer an automatic system, RDF is a way to go.
A bead filter system is another one. This may be something you see more often. It looks like a pool filter. Bead filters come with backwash function so you can remove collected wastes from the system without getting your hands dirty. These filters also use small beads. They have a lot of surface areas for bacteria to grow on. So the system has some biological function, too. The Alpha One filter is one of the popular ones.
A biological filter system uses filter media materials to grow nitrifying bacteria. The main purpose of the media is not to filter particles, but to provide enough living space for bacteria to reside in. So it is important that media have ample surface area and do not clog. There are many type of filter media like filter mats, bio balls, brushes, and more.
There are many products that use these bio media.
Mechanical filters and biological filters both have their own purposes. If your pond is large, adding both types of filters is recommended so you can enjoy crystal clear water while knowing your water is healthy. If you have to pick only one for your Koi pond, please make sure to choose a biological filter system.
How to size your filter and more
It is highly recommended to double the size of your filter for your pond. In other words, if your pond is 1000 gallons, please install a filter that handles 2000 gallons. The size of your filter should ideally be based on the Koi population and how much waste they are expected to produce. But it is not easy to see the waste volume; so just go at least twice as big as your pond size. You can never oversize your filter.
Adding an air pump is also important. Nitrifying bacteria are aerobic bacteria. In other words, they need oxygen. So a lot of aeration in a pond is essential. (This is also why clogged media is bad. It stops the air supply to bacteria, and they die.) Even if you have a waterfall, in many cases, it is not enough. Adding an air pump, like a Medo Air Pump, is highly recommended.
I hope this blog is helpful to understand the basics of Koi pond filtration.
Happy Koi
Our Recommended Pond Filtration Products
These items help keep your koi's environment clean and healthy so you can enjoy your koi pond for years to come. Thanks for reading.
Further Reading About Koi